Taekwon-Do on enemmän kuin pelkkä kamppailulaji – se on elämänfilosofia ja polku henkiseen kasvuun. Tämän polun alkutaipaleella seisoo Taekwon-Do vala, vahva lupaus ja sitoutuminen, joka lausutaan jokaisen harjoituksen alussa. Tässä artikkelissa tarkastelemme Taekwon-Do valan merkitystä sekä syitä sen lausumiseen harjoitusten alussa.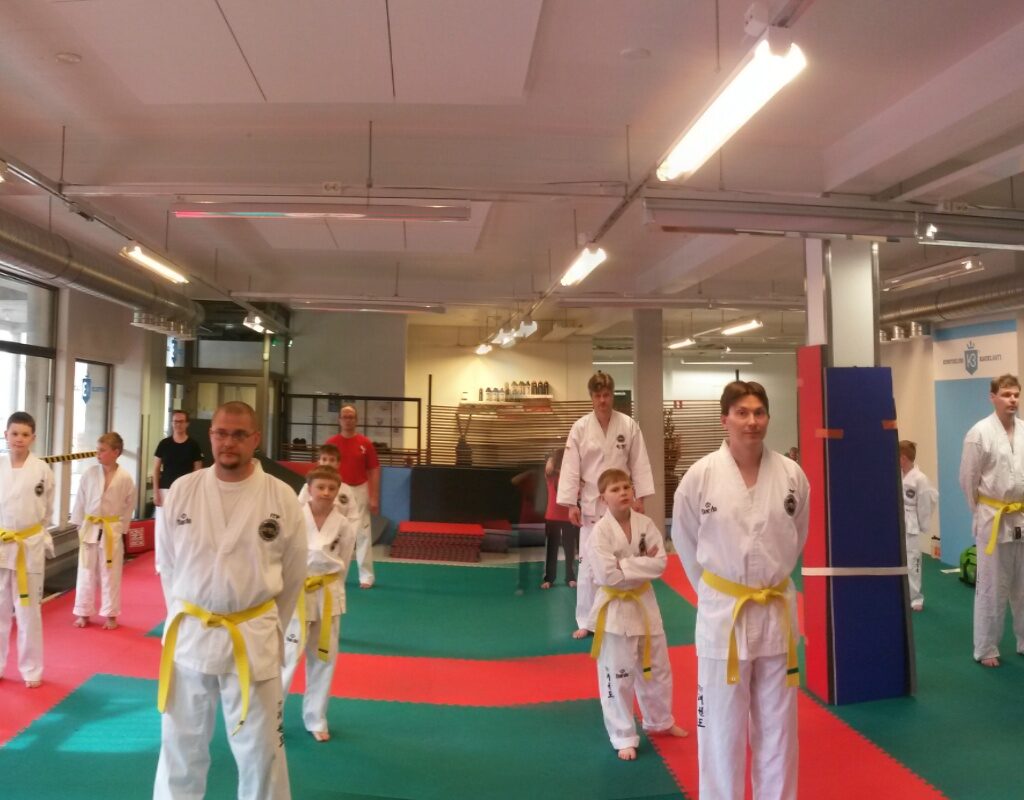 Taekwon-Do Vala: Polun Perusta
Suomeksi:
Lupaan noudattaa Taekwon-Do:n sääntöjä (tenets)
Tulen kunnioittamaan ohjaajaa ja ylempiä vöitä
Lupaan olla käyttämättä Taekwon-Do:a väärin
Tulen olemaan puolestapuhuja vapaudella ja oikeudenmukaisuudelle
Autan rakentamaan rauhallisempaa maailmaa
In English:
I shall observe the tenets of Taekwon-Do.
I shall respect the instructor and seniors.
I shall never misuse Taekwon-Do.
I shall be a champion of freedom and justice.
I shall build a more peaceful world.
Valan Merkitys: Henkinen Sitoutuminen
Taekwon-Do vala on syvä ja merkityksellinen lupaus, joka heijastaa lajin perusarvoja ja periaatteita. Valan lausuminen symboloi sitoutumista näihin periaatteisiin ja asettaa oppilaan tielle, joka johtaa itsekehitykseen ja henkiseen kasvuun. Valan sanat muistuttavat meitä kunnioittamaan Taekwon-Do:a ja sen sääntöjä, mikä auttaa meitä ylläpitämään eettistä ja moraalista pohjaa harjoituksissamme.
Valan toinen osa korostaa oikeudenmukaista käyttöä hankitulle taidolle. Taekwon-Do ei ole pelkästään voimankäyttöä, vaan sen tarkoitus on edistää oikeudenmukaisuutta ja rauhaa. Vala ohjaa meitä käyttämään oppimaamme vain oikeudenmukaisiin tarkoituksiin ja auttamaan muita.
Valan Lausuminen Harjoituksen Alussa
Valan lausuminen harjoituksen alussa on tärkeä perinne Taekwon-Do:ssa, ja sillä on useita syitä. Ensinnäkin, se auttaa keskittymään harjoitukseen ja asettamaan oikean mielentilan. Valan sanat toimivat muistutuksena siitä, miksi harjoittelemme ja mitä arvoja ja periaatteita tulee noudattaa.
Toiseksi, valan lausuminen yhdessä muiden harjoittelijoiden kanssa luo yhteenkuuluvuuden tunteen ja vahvistaa ryhmän yhteisöllisyyttä. Se luo yhteisen pohjan kaikille harjoituksille ja sitoutumiselle Taekwon-Do:n polulle.
Johtopäätös: Valan Voima
Taekwon-Do vala on enemmän kuin pelkkä sanajono – se on voimakas sitoutuminen lajin periaatteisiin ja arvoihin. Valan lausuminen harjoituksen alussa luo vahvan perustan oppimiselle ja henkiselle kasvulle. Se muistuttaa meitä siitä, että Taekwon-Do ei ole vain fyysistä harjoittelua, vaan myös henkistä matkaa kohti parempaa itseämme ja parempaa maailmaa.
Niinpä, aina kun lausumme Taekwon-Do valan, muistakaamme sen voima ja sitoutuminen, joka piilee sen takana. Se on opas polullamme kohti vahvuutta, oikeudenmukaisuutta ja henkistä kasvua.
Janne Hukkavaara, ohjaaja Sasaja TKD:lla